Hi folks. I'd like to add a radio stream to the music files from this address:
http://icecast2.play.cz/country128aac
It's a country music radio, I'd like to add it to this playlist:
However, it doesn't work. When I download M3U that contains this stream link, it doesn't add it at all because it doesn't understand the syntax. When I try to add the direct link, it doesn't work eighter, because it tries to record the stream into a file instead, and because it is a continuous stream, it never finishes. I know it is possible, because somebody using that bot actually uploaded another radio station like that: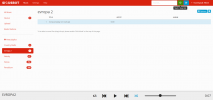 Do I need to add it into radio stations instead? Or do I need to alter the M3U instead so it works properly? How? I attached the downloaded M3U.