Required SinusBot Version

1.0
Compatible Backends

TeamSpeak 3
Hey Leute!
Ich war länger nicht mehr da aber heute teile ich mein 'Staff List' - Script.
Es dient der automatisierten Überwachung vom Status vordefinierter Teammitglieder.
Wann immer ein Mitglied der konfigurierbaren Gruppen den Status wechselt (online,
offline, away), aktualisiert der Bot mit Hilfe des Scripts die Beschreibung eines von euch
vordefinierten Kanals.
Dabei kann man so gut wie alles von der Liste selbst anpassen und verschiedene
Voraussetzungen festlegen.
Hier ist eine kleine Preview, damit man sich vorstellen kann, wie das ganze aussieht,
wenn man es installiert und konfiguriert hat: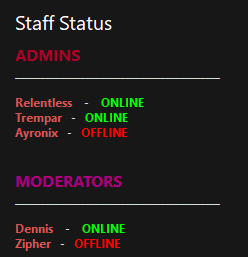 Für nähere Erklärungen, besucht unser
GitHub-Repository
, wo das ganze noch mal
ausführlicher steht. Dort gibt es auch immer das neuste Release, falls es hier noch nicht
verfügbar ist.
Außerdem gibt es da den
Konfigurations-Guide
, falls ihr Probleme mit den Einstellungen
des Scripts habt.
Hey guys!
I haven't been around for a while but today I'm sharing my 'Staff List' script.
It is used for automated monitoring of the status of predefined team members.
Whenever a member of the configurable groups changes the status (online, offline,
away), the bot updates the description of the predefined channel from the config.
You can customize almost every aspect of the list itself and choose from different
conditions for the status.
Here is a little preview so you can imagine how it all looks like, once you have it
installed and configured: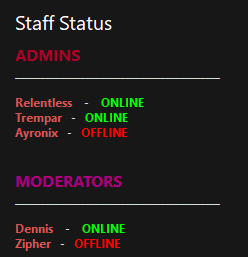 For more information, visit our
GitHub repository
where you can find
everything more in detail. There you can always find the latest release in
case it's not available here yet.
Additionally there is a
configuration guide
if you have problems with the
settings of the script.
In case you need support with the script, feel free to join our
Discord
!
If you want to report a bug or request a new feature, please do that
on our GitHub repository in the
issue section
.
This script is only compatible with SinusBot version 1.0 and above since it uses
JavaScript features which are only available in the new scripting engine.
There will be no support if you use this script with a version below 1.0.
Credits:
If you want to request a script for personal use or if you just have a good idea for
another public script, join our
Discord
and talk to one of the RLNT members.​