Required SinusBot Version

1.0
Compatible Backends

TeamSpeak 3
Hey Leute!
Heute teile ich unser 'Header-Groups' - Script.
Es dient der automatischen Vergabe/Entfernung von Übersichtsgruppen.
Wann immer jemand eine Servergruppe zugeteilt oder entfernt bekommt, prüft das Script, ob
diese Gruppe eine der Triggergruppen für die jeweilige Übergruppe ist (Header-Group).
Sobald jemand mindestens eine der Triggergruppen hat, wird die Headergruppe zugeteilt.
Sollten irgendwann wieder alle Triggergruppen entfernt werden, wird auch die Headergruppe
wieder entfernt.
Hier ist eine kleine Preview als Beispiel, damit man sich das ganze besser vorstellen kann:
Auf meinem Server sieht es folgendermaßen aus: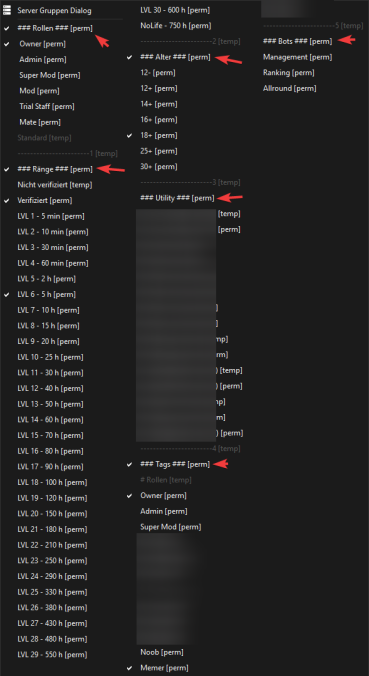 Wie man sehen kann gibt es verschiedenen Headergruppen, welche die anderen Gruppen zu einer
Sektion zusammenfassen.
Ein gutes Beispiel ist die Gruppe ### Rollen ###.
Das ist die Headergruppe für die zahlreichen Teamgruppen, die ich habe.
Das ganze schafft eine bessere Übersicht. Nicht nur, wenn jemand die Servergruppen vergibt,
sondern auch im Servergruppen-Menü und in der Beschreibung des Clients.
Beispielsweise so: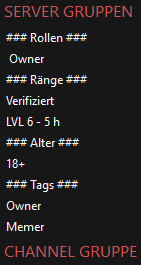 Was das Script hier nun macht ist ganz einfach.
Die Gruppen, die unter ### Rollen ### stehen, sind die Triggergruppen. Wann immer nun
ein Nutzer mindestens eine dieser Gruppen bekommt, wird ihm auch die Headergruppe gegeben.
Das ganze funktioniert natürlich auch umgekehrt und die Headergruppe wird wieder entfernt,
sobald der Nutzer keine der erforderlichen Triggergruppen mehr hat.
Für nähere Erklärungen, besucht unser
GitHub-Repository
, wo das ganze noch mal
ausführlicher steht. Dort gibt es auch immer das neuste Release, falls es hier noch nicht
verfügbar ist.
Außerdem gibt es da den
Konfigurations-Guide
, falls ihr Probleme mit den Einstellungen
des Scripts habt.
Hey guys!
Today, I want to share our 'Header-Groups' - Script.
It is used for the automatic assigment/removal of groups for a better overview.
Whenever someone is assigned/removed to/from a servergroup, the script will check if this
specific group is one of the corresponding trigger groups for the overview group (header group).
As soon as someone has at least one of the trigger groups, the header group will also be assigned.
In case the user loses all the trigger groups in the future, the header group is also removed again.
Here is a little preview as an example so you can understand the script more easily:
On my server, it looks like this: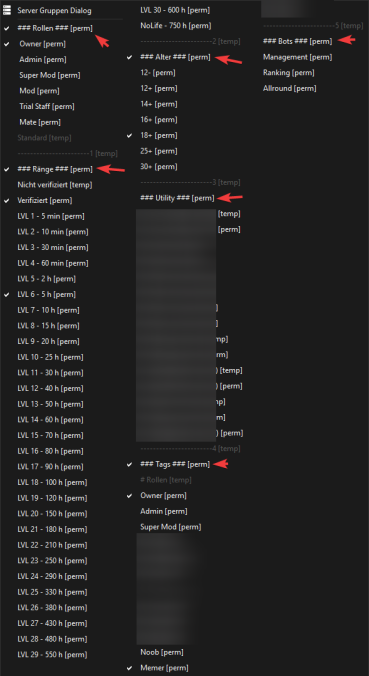 As you can see, there are different header groups which group up other groups to a section.
A good example for that is the group ### Rollen ### (sorry, but it's German).
This is the header group for plenty of team groups I have.
All this grants a better overview. Not only is it good for someone that assigns servergroups to
someone. It is also pretty handy in the servergroup menu or in the description of a client.
For example like this: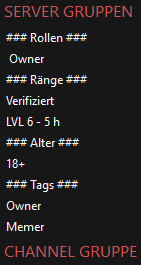 What the script does it pretty simple.
The groups that are listed below ### Rollen ### are the trigger groups. Whenever a user gets at
least one of these groups now, they will also get the corresponding header group automatically.
The whole things also works the other way around and the header group is removed as soon
as a user has no corresponding trigger groups anymore.
For more information, visit our
GitHub repository
where you can find
everything more in detail. There you can always find the latest release in
case it's not available here yet.
Additionally there is a
configuration guide
if you have problems with the
settings of the script.
In case you need support with the script, feel free to join our
Discord
!
If you want to report a bug or request a new feature, please do that
on our GitHub repository in the
issue section
.
This script is only compatible with SinusBot version 1.0 and above since it uses
JavaScript features which are only available in the new scripting engine.
There will be no support if you use this script with a version below 1.0.
Credits: