Required SinusBot Version

1.0
Compatible Backends

TeamSpeak 3
Informs you about the status of a server configured on
uptimerobot.com
Installation:
Download the script and put it in the scripts folder where the SinusBot is installed
Restart the SinusBot
Go to uptimerobot.com, make an account, add a new monitor and generate a monitor specific API key in the Settings.
Go to your web-interface: Settings -> Scrips and enable the script by checking the box next to it
Configure the script (by clicking on the arrow to show the options)
Click on Save changes at the bottom of the page
Example Config
: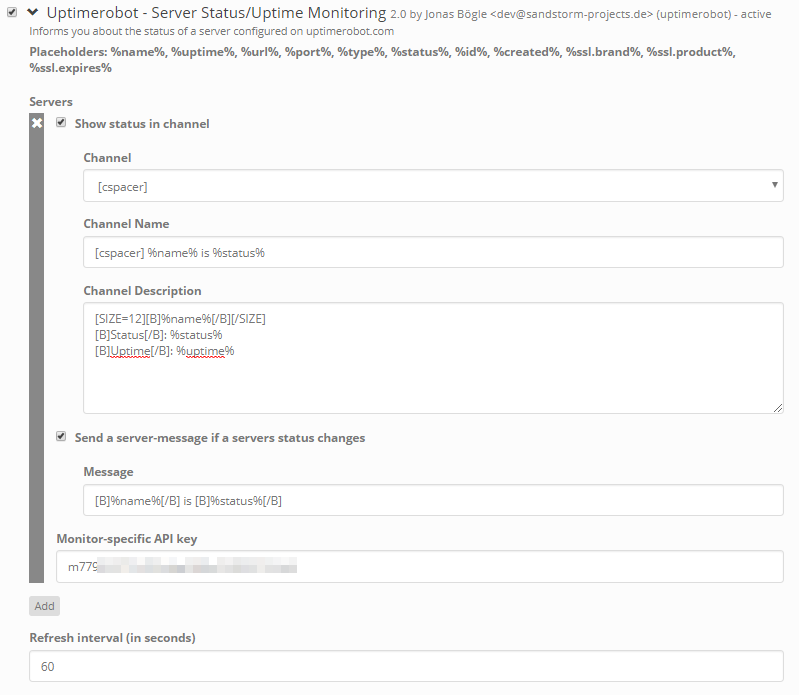 Placeholders:
%name%, %uptime%, %url%, %port%, %type%, %status%, %id%,
%created%
*, %ssl.brand%, %ssl.product%,
%ssl.expires%
*
*
(%created% and %ssl.expires% are currently not working due to a known issue)
Be sure that the the Bot has the following permissions:
b_channel_modify_name
b_channel_modify_description
b_client_server_textmessage_send
and enougth
i_channel_modify_power
Feedback and suggestions are always welcome.
I'd appreciate a rating/like if you like this script


If something is not working or you need help:
make sure that you have the latest version of the SinusBot (this script requires at least version 1.0.0)
make sure that you have the latest version of this script
read the instructions above carefully and check if you've missed anything
If you've checked everything and it still doesn't work then you can ask for help in the discussion thread.
But hold on for a second! Before you post: read this first and include all of the required information.